The Story of Brasserie Vagenende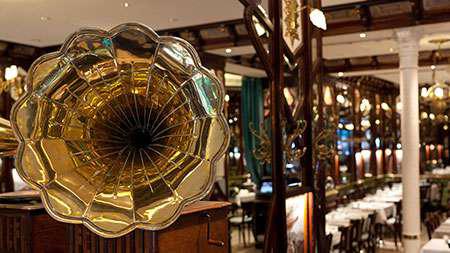 OUR STORY
Housed in a 19th-century former patisserie, Vagenende was created in 1904 as one of the Chartier restaurants, a chain of brasseries founded by brothers Edouard and Camille Chartier. Fortunately the brothers took care over the décor and a superb Belle Epoque style reigns throughout with mirrors and beautiful woodwork.
The glass roof over the terrace, the Pivain's glass panels displaying 36 different landscapes, the fruit-decorated earthenware and the bronze coat racks are not to be missed either. But to really step back in time, simply request that they turn the handle of the old mechanical piano..
After several years of success the Bouillon Chartier chain was taken over by its competitor, Rougeot who then sold the restaurant to the Vagenende family in the 1920s. Throughout the years they have fought hard to maintain the cachet of this legendary establishment which almost became a supermarket in 1966!
Following a press campaign, its saviour came in the form of French novelist André Malraux. In his role of minister of cultural affairs under the governance of Charles de Gaulle, he decided that plans for the restaurant to become a supermarket should be abandoned.
In 1983, the establishment became a listed building and its present owners, Monique and Marie Egurreguy, has made protecting this Belle Epoque treasure their first priority.